Fruit Slice Drying Machine
1. Fruit slice dryer ,Fan speed is controlled by VFD (Optional), and it can adjust the air volume .

2. Fruit Slice Drier have high effiency .
3.Fruit Slice Dryer have low engery consumption
4.Fruit Slice Drying Device heated by steam source
1.Fruit Slice Drying Machine Descriptions
Fruit Slice Drying Machine is a continuous penetrating flow drying equipment applied for drying pieces strip and particles state materials with good ventilation.
The machine owns the advantages, of fast drying speed, high evaporation capacity and good product quality.

2.Fruit Slice Drying Machine Principles
The materials are uniformly distributed on the mesh-belt by the material feeder. The mesh-belt generally adopts 12-60 mesh stainless steel mesh and it is drawn by a transmission device and move inside the dryer. The dryer is composed of several sections. For each section, the hot air is circulated separately. Part of exhausted gas is exhausted by a special moisture elimination blower. Thewaste gas is controlled by an adjustment valve. The hot air passes through the mesh-belt covered with bring water material away. The mesh-belt moves slowly, running speed can be freely adjusted according to the material collector continuously.
The top and low circulation units can be freely equipped according to the users requirements. The number of section might be selected according to the production demands.

3.Fruit Slice Drying Machine Applications
Fruit Slice Drying Machine is suitable for the materials, such as de-watering de-watering vegetable, herbal medicine of traditional Chinese medicine and others, for which the water content rate is high and the high temperature is not allowed. The machine owns the advantages, that its drying speed is fast, the evaporation strength is high and the product quality is good. The de-watering filtering cake state paste material, after the particle makeing or bar making, can be dried also.

4.Fruit Slice Drying Machine Attentions to Order
(1). Name of liquid materials, nature, solid content (or moisture content), viscosity, surface tension, PH value.
(2). Volumetric weight after drying, allowable residue moisture, granularity, allowed high temperature.
(3). Production, total shift hours per day.
(4). Available energy resource and volume of steam, power supply capacity, available volume of coal, oil and steam.
(5). Control requirement: If inlet and outlet temperature are needed automatic controlled.
(6). Requirement of powder collection: If bag collector is needed to install, environmental requirement of tail gasherbal The dewater.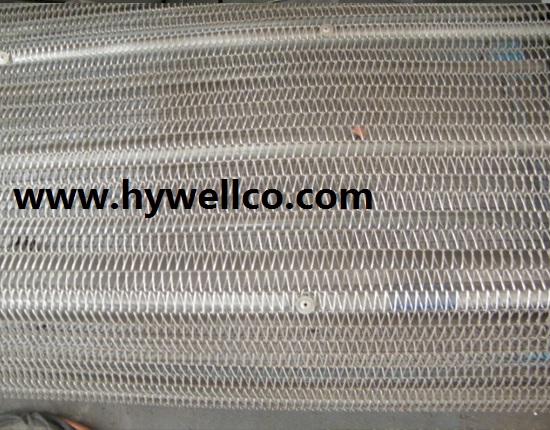 Model

DW-1.2-8

DW-1.2-10

DW-1.6-8

DW-1.6-10

DW-2-8

DW-2-10

Unit Qty

4

5

4

5

4

5

Blet Wide (m)

1.2

1.2

1.6

1.6

2

2

Drying Lengthm)

8

10

8

10

8

10

Thickness (mm)

10-80

Inlet Temp (℃)

60-200

Steam Pressure(Mpa)

0.2-0.8

Steam Consumption (kg/h)

120-300

150-375

150-375

170-470

180-500

225-600

Drying Time (h)

0.2-1.2

0.25-1.5

0.2-1.2

0.25-1.5

0.2-1.2

0.25-1.5

Evaporating Water (kgH2O/h)

60-160

80-220

75-220

95-250

100-260

120-300

Fan Power(kw)

8.8

11

12

15

16

20

Total Power(kw)

10.1

12.3

13.3

16.3

17.3

21.3